Floating Lift Station Degreaser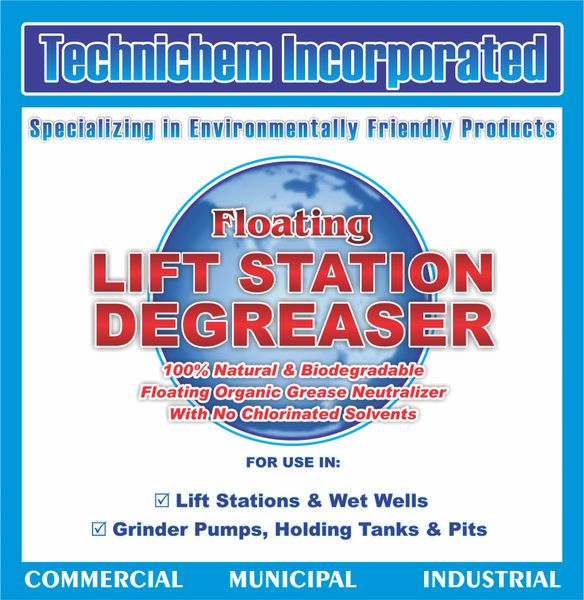 Floating Lift Station Degreaser
Please Contact Us For Volume Discounts


Floating Lift Station Degreaser
Floating Lift Station Cleaner (5 gallon closed head pail or 55 gallon drum)

Floating proprietary formulated grease destroyer designed to deliver maximum grease dissolving in extreme circumstances. Floating Lift Station Cleaner washes down the sides of lift stations and wet wells as water levels rises and falls. Strips away heavy grease accumulations from side wall, floats and pumps, and quickly dissolves grease balls and mats. Floats on the surface, rising and falling with the water to prevent grease build-up on walls and water surface.
Designed to work in applications in which water based or bacteria and enzyme products are inappropriate. 

 

Works great in all types of waste water treatment plants, lift stations, wet wells, grinder pumps, holding tanks and pits. 

Highly-effective, all-natural solution for covering offensive odors and eliminating grease accumulation on lift station walls, pumps & floats. A tank sprayer may be used to spray interior walls of manhole or wet well if desired.
 Dissolves grease, fat, surface scum
Safe to use in concrete or steel wet wells
Reduces downtime, improves efficiency
Non-freezable, ready-to-use year-round formula
Helps control odors with "odor blanket" effect

Eliminates odors and the need for costly pump-outs in all restaurant and institutional sized Grease Traps (when used as part of a monthly maintenance program).

LIFT STATION DIRECTIONS: 

Maintain a 3/4" layer, using 1/3 gallon for each square foot of water surface.  

DIAMETER OF WELL:
6 ft = 9.5 ga

7 ft = 12.75 ga

8 ft = 16.75 ga

10 ft = 24 ga

**For more information, application dosages, bulk pricing, additional pricing discounts or to set up a Net 30 account, please contact us directly at:
800-860-8324 info@greasebugs.com