Floating Odor & Grease Destroyer (Mulberry Scented)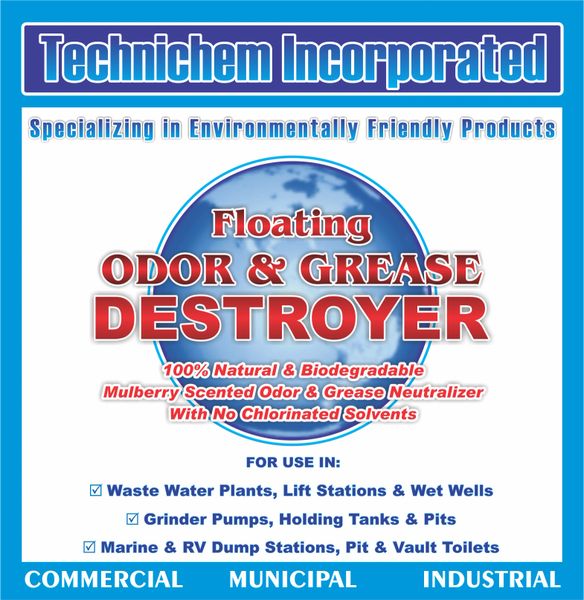 Floating Odor & Grease Destroyer (Mulberry Scented)
Please Contact Us For Volume Discounts


Floating Odor & Grease Destroyer
Floating Odor & Grease Destroyer (5 gallon closed head pail or 55 gallon drum)

Floating mulberry scented proprietary formulated blend of solvent soluble, malodor counteractants and fragrances designed to deliver the maximum in odor neutralizing capabilities in extreme circumstances. 
Designed to work in applications in which water based or bacteria and enzyme products are inappropriate. 

Works great in all types of waste water treatment plants, lift stations, wet wells, grinder pumps, holding tanks and pits. 

Performs with outstanding results in marine and RV dump stations, portable, pit, vault & cement toilets. 
DIRECTIONS: 
WWTP / COLLECTION SYSTEMS: Add 5 gallons per 100K GPD per week. Thereafter, titrate to the lowest dosage that yields desired results.
DUMP STATIONS, PIT & CEMENT TOILETS: Add 1 gallon per 1K gallon capacity, weekly. Thereafter, increase as needed, or decrease to no less than 1 quart per 1K gallons. *Add water to cover solids

PORTABLE TOILETS: Add 6-8 ounces weekly, to the holding tank. Pump weekly (as needed). 

AS A FLOATING DEGREASER & DEODORIZER: Maintain a 3/4" layer, using 1/3 gallon for each square foot of water surface.  
FOR SEVERE ODOR APPLICATIONS: One gallon per 2000 square feet.  

FOR MODERATE ODOR APPLICATIONS: One gallon per 3000 square feet.

FOR MILD ODOR APPLICATIONS: One gallon per 4000 square feet.

*May also be used in wick applications for odors

**For more information, application dosages, bulk pricing, additional pricing discounts or to set up a Net 30 account, please contact us directly at:
800-860-8324 info@greasebugs.com