Greasebugs LSC Lift Station Cleaner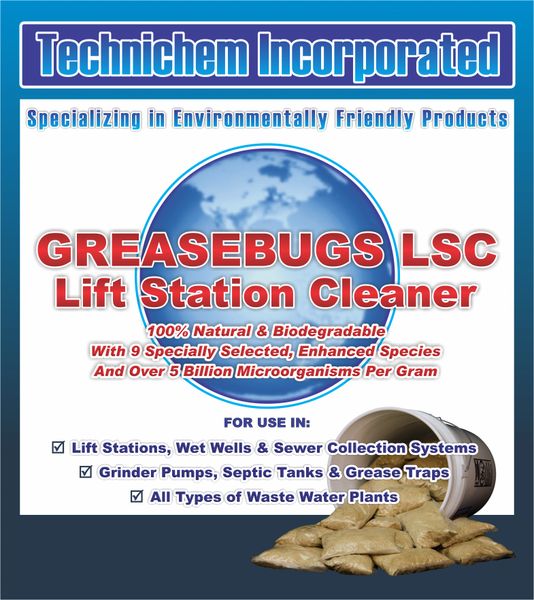 Greasebugs LSC Lift Station Cleaner
Please 
Contact Us
 For Volume Discounts



Greasebugs LSC Lift Station Cleaner Grease Digester
Available in 25lb pail (8oz Toss-It Packets)
Our best selling collection system product for 25 years!
Out performs our competitors, and floating lift station degreasers
Eliminates grease where it's at (does not solubilize and move grease down stream to plants and lagoons)
9 strains that target & eliminate fats, oils, grease, hydrocarbons, detergents and paper 

Keeps grease from building up on floats, sidewalls and downstream lines
Reduces or in most cases eliminates the need for physical cleaning and jetting of lift stations and wet wells
Helps clean downstream collection system lines
Residual effects can be experienced downstream in waste water treatment plants and lagoons
Minimizes impact of root infiltration
Easy application, dosage specific, 8oz Toss-It Packets
Average one pail per lift station, per year (at a once per week dosage)
Our best selling collection system and lift station product is a heavy-duty formula that contains 9 different strains of bacteria that specialize in the elimination of FOG, hydrocarbons, detergents and paper. Use this to keep grease from building up on floats, sidewalls and downstream lines. Works great to minimize the impact of root infiltration when grease causes line obstructions.
"Using Greasebugs LSC has resulted in a dramatic reduction in grease build-up in our lift stations, thus reducing the fouling probes, floats and increasing their efficiencies. The mechanical cleaning has been reduced from six-month intervals, to just inspections. We haven't cleaned any treated wet well in over two years"
Greasebugs Lift Station Cleaner Directions: 
Add 1x8oz water-soluble Toss-It Packet 3-5 times weekly, until desired results are achieved. Reduce dosage to the point of best returns for ongoing maintenance. Average dosage rate is 1-2 packets per week. 
For extreme grease loading, double the above initial treatment dosage rate
You may also consider adding Greasebugs LSC and/or our Greasebugs Megadose Pellets, Liquid or Logs to upstream manholes to start the F.O.G. degradation process sooner. 
Hint #1 - For maximum results in cold water applications, try our Greasebugs Arctic Blend 

Hint #2 - In extremely high grease loading applications, try our Greasebugs Megadose Logs in conjunction with this product for maximum 24/7 treatment 
**For more information, application dosages, bulk pricing, additional pricing discounts or to set up a Net 30 account, please contact us directly at:
800-860-TECH info@greasebugs.com