Greasebugs Meat & Poultry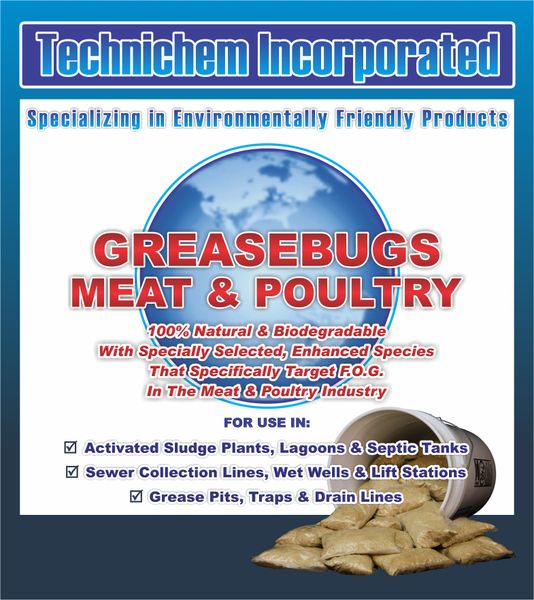 Greasebugs Meat & Poultry
Please Contact Us For Volume Discounts


Greasebugs Meat & Poultry 
Grease Digester
Available in 25lb pail (8oz Toss-It Packets)
Specially formulated to aid in grease and sludge digesting in collection systems, treatment plants, lagoons, grease pits, traps, sewer drain lines and septic tanks in meat and poultry processing and slaughterhouses. 
Greasebugs Meat & Poultry offers a safe and effective way to treat food industry waste assisting in regulation compliance, odor control and cost-reduction. Strict regulations govern the disposal of wastewater within most industries and the food processing industry disposes of large amounts of wastewater containing high levels of organic waste including FOG (fats, oils and greases), starches and proteins.
The strains of application-specific bacteria combine with innovative, eco-friendly chemistry in Greasebugs Meat & Poultry to break down suspended solids, eliminate malodors and increase system efficiency and meet regulatory compliance. 
*The wastewater system dosage chart below may be used as a worse case scenario guideline, and as all situations vary, please consider titration as a means to get to the best dosage for your system and expectations.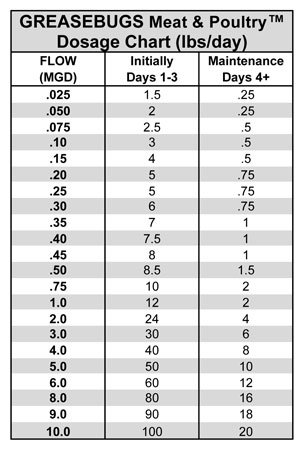 **For more information, application dosages, bulk pricing, additional pricing discounts or to set up a Net 30 account, please contact us directly at:
800-860-TECH info@greasebugs.com