Greasebugs Megadose Log - 30 & 10lb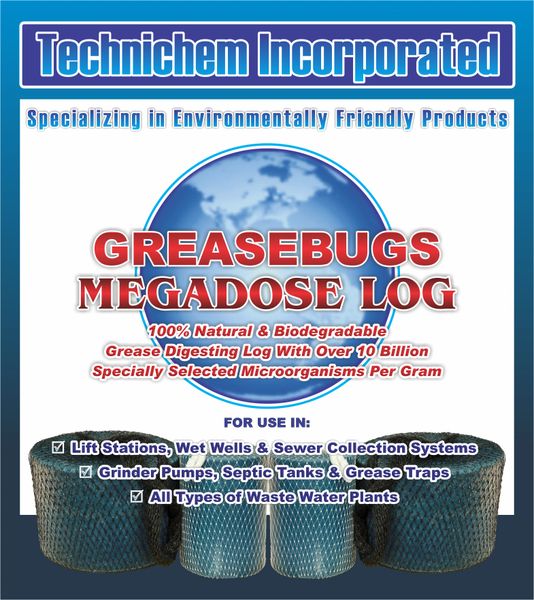 Greasebugs Megadose Log - 30 & 10lb
Please 
Contact Us
 For Volume Discounts


Greasebugs Megadose Log 

Grease Digester

Available in 1x30lb Log case or 4x10lb Log case

These 10 billion/gram logs are 250% stronger than our average competitors products. Megadose Logs are the most cost effective, best working solid blocks available for the elimination of FOG, hydrocarbons, detergents and paper. Use these to keep grease from building up on floats, sidewalls and downstream lines. Works great to minimize the impact of root infiltration when grease causes line obstructions. 




250% stronger than our competitors!
Out competes other solid blocks on the market in cost and performance
Keeps grease from building up on floats, sidewalls and downstream lines
Set and forget application keeps your labor costs down while giving you peace of mind
Great in lift stations, wet wells, grease traps and at WWTP inflow locations

For maximum results in cold water applications, try our Greasebugs Arctic Blend in conjunction

 with this product. 

In extremely high grease loading applications, try our Greasebugs LSC (Lift Station Cleaner) in conjunction with this product for maximum 24/7 treatment.
Sewer Collection System Manhole / Lift Station Directions: Fasten to a brass swivel and nylon rope, hang below the surface at the high water mark, partially in the flow so that the flow may break it down, and the Log doesn't collect and cover in grease (for a heavier dosage, put directly in flow). Replenish as needed. 
Grinder Pumps, Septic Tanks & Grease Trap Directions: Same as above. 
Wastewater Treatment Plant Directions: Fasten to a brass swivel and nylon rope, add to the plant inflow or basin by hanging below the surface. Replenish as needed.
Troubleshooting:

If the applied Log begins to collect and cover with grease, you must remove the grease and reposition the Log closer to the flow (if the Log cannot be broken down, it cannot perform its job properly). 
If the Log dissolves too quickly, move it out of the direct flow far enough that it doesn't cover with grease (or try moving to a 30lb Log if you are currently using 10lb Logs). 
Testimonials: 
"We're currently using 30lb Greasebugs Megadose Logs in all of our lift stations that give us trouble. We've placed them just as you instructed us in the wells that were giving us the biggest problems, and they've worked great ever since. Also, we'll continue to use Greasebugs LSC on a weekly basis in the manholes that feed the worst of them. Great products at great prices!"
"We've used other blocks (from a prominent janitorial supply house), and the Bug On A Rope with mediocre results. We tried the Megadose Log (10lb) in three of our lift stations, and noticed a difference in the grease buildup right away." 

**For more information, application dosages, bulk pricing, additional pricing discounts or to set up a Net 30 account, please contact us directly at:
800-860-8324 info@greasebugs.com