Greasebugs Megadose Pellets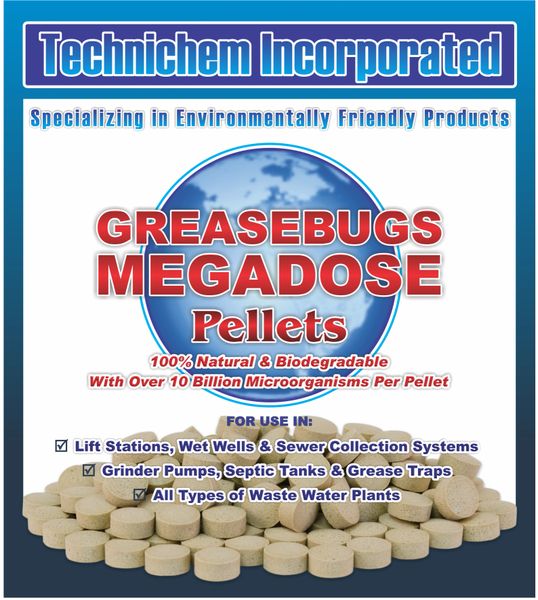 Greasebugs Megadose Pellets
Greasebugs Megadose Pellets
Available in 10, 25 or 50lb case Greasebugs Megadose Pellets (10 Billion CFU/Pellet)
Designed to sink to the bottom and not get pumped out before attaching to grease

 
Contact us 

for custom tailored dosage recommendations 

Specialized strains that target & eliminate fats, oils, grease, hydrocarbons, detergents and paper 


Keeps grease from building up on floats, sidewalls and downstream lines

Minimizes impact of root infiltration

Easy application, high-potency pellets

Use 3/4 cup (8oz) of pellets, 1-3 times weekly depending on size, loading and desired results

Average 25lbs per lift station, per year (at a once per week dosage)
Average Dosage Rates:

Lift Station Maintenance Dose: Use 3/4 cup (8oz) of pellets, once weekly depending on size, loading and desired results
Lift Station Heavy Dose: Use 3/4 cup (8oz) of pellets, 2-3 times weekly depending on size, loading and desired results
Waste Water Treatment Plants, Tanks, Pits & Lagoons: Contact us 

for custom tailored dosage recommendations 
Hint #1 - For maximum results in cold water applications, try our Sludgebugs Arctic Blend in conjunction with this product. 
Hint #2 - In extremely high grease loading applications, try our Greasebugs Megadose Logs in conjunction with this product for maximum 24/7 treatment. 
Now our best selling collection system and lift station product is available in an easy to use 10 billion CFU pellet. Our formula contains strains of bacteria that specialize in the elimination of FOG, hydrocarbons, detergents and paper. Use this to keep grease from building up on floats, sidewalls and downstream lines. Works great to minimize the impact of root infiltration when grease causes line obstructions. 
Megadose Pellets are a dense product designed to be "tossed in" and sink to the bottom. When they sink into the grease and sludge, the bacteria produce enzymes that speed up the breakdown of organic waste. This product will also reduce sulfide and mercaptan odors found in sludge and grease layers.

Greasebugs Megadose Pellets have been formulated for use in municipal, commercial and industrial applications, including meat and poultry processing and slaughterhouses. 

Greasebugs Megadose Pellets offer a biological alternative to dredging. The combination of beneficial microorganisms, enzymes and essential nutrients stimulates biological activity in the sludge and provides a cost effective way of reducing sludge volume and improving treatment. Greasebugs are applied at the water surface and sink directly into the settled sludge layer. They are easily applied over a broad area and target hot spots where sludge has accumulated.

**For more information, application dosages, bulk pricing, additional pricing discounts or to set up a Net 30 account, please contact us directly at: