Greasebugs Drain Line & Grease Trap Treatment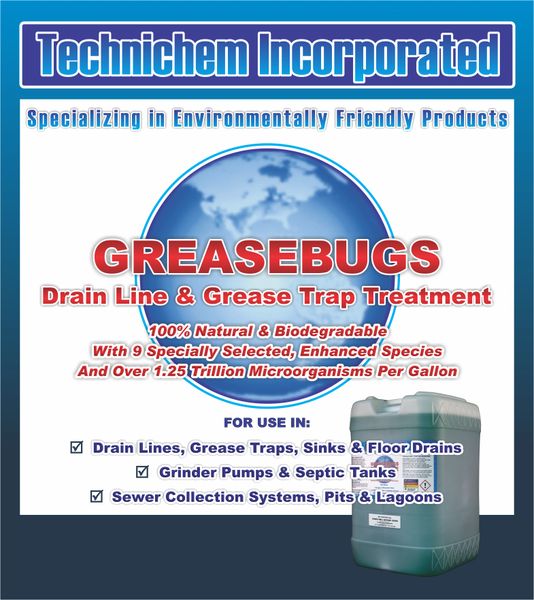 Greasebugs Drain Line & Grease Trap Treatment
Greasebugs Drain Line & Grease Trap Treatment (5 gallon closed head pail or 6x1 gallon case)*

This time-tested drain line, grease trap and sink product with 1.25 trillion bacteria cultures per gallon, provides continual treatment when used with a timer and pump, or may be manually applied at a rate of 12-20oz per night (depending on grease loading). Specially formulated to degrade fats, oils and grease, organic waste and odors in sewer lines, kitchen drain lines, grease traps and pits in all commercial, municipal, industrial and residential applications. 
For drains with fruit fly infestations, start out at a rate of 12-20oz per night until problem is alleviated. Thereafter, add on an as needed, or maintenance basis. 
*NEW FOR 2018, OVER 50% STRONGER!

ADVANTAGES:
optimized application-specific, proprietary bacterial consortium specifically targets and degrades FOG, even as the pH decreases




highly effective eco-friendly

 

formulation is readily biodegradable




product is safe for users and the environment




de-emulsifying surfactant promotes separation of water phase from FOG phase increasing efficacy of grease traps and grease interceptors and allowing bacteria to work more effectively




proven rapid degradation of soybean, vegetable and olive oils




effectively formulated using minimal levels of buffering agent, giving excellent product stability and improved shelf life

manufactured under strict quality control standards to ensure high quality and purity




effective bacterial action reduces odors associated with grease traps, interceptors and drain lines within hours of application

great for drain odors and fruit fly infestations
**For more information, application dosages, bulk pricing, additional pricing discounts or to set up a Net 30 account, please contact us directly at:
800-860-8324 info@greasebugs.com