Pond Pellets - Water Clarifying, Sludge, Muck & Odor Reducer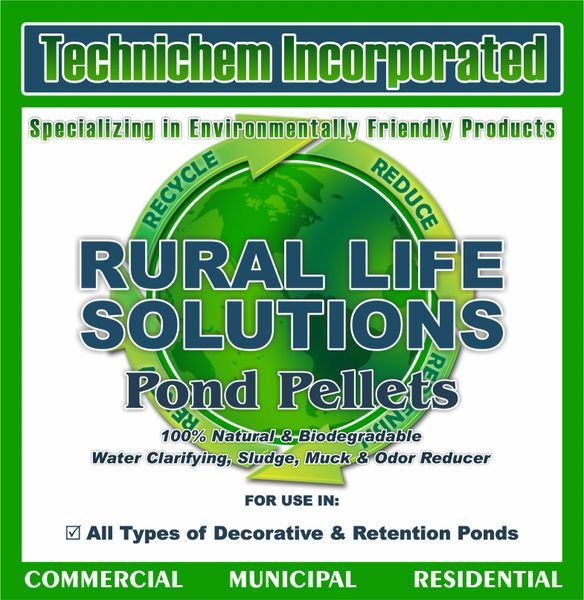 Pond Pellets - Water Clarifying, Sludge, Muck & Odor Reducer
Rural Life Solutions Pond Pellets - Water Clarifying, Sludge, Muck & Odor Reducer 
Available in 25lb case (10 Billion CFU/Pellet)
FREE SHIPPING!
Commercial Grade

Use our drop down menu above to purchase at discounted pricing by acre foot calculations 

100% Natural & Biodegradable 

Consumes nutrients that unwanted weeds and algae thrive on

Reduce up to 70% of sludge and muck

Lowers ammonia

Clarifies water

Balances ponds

Reduces dredging

Rural Life Solutions Pond Pellets are slow-release pellets that sink down into the muck to deliver essential bio-stimulants and indigenous bacteria. They penetrate and degrade pond muck by stimulating naturally occurring bacteria and adding sludge-eating cultures.
Pond Pellets are a dense product designed to be "tossed in" and sink to the bottom. When they sink into the muck the bacteria produce enzymes that speed up the breakdown of organic waste. Some customers have expressed success breaking down sycamore leaf debris in their lakes and ponds using our Pond Pellets. They contain safe and beneficial bacteria, and will not harm aquatic species, fish, waterfowl, or people. This product will also reduce sulfide and mercaptan odors found in muck.
NOTE: Pond Pellets DO NOT kill aquatic plants or algae
DOSAGE RATES:

Traditional Dose: Feed 10-lb to 25-lb per surface-acre once per month depending on depth of muck or extent of surface debris.

Super Dose: For ponds or lakes where they would like to degrade up to 1 foot per month. Feed 50# per acre once per month.

Temperature Range: Works best when water temperature is 60° F (17°C) to 130°F (54°C). The warmer it is the faster they reproduce and digest sludge.
APPLICATIONS: 
Lakes: Pond Pellets can be distributed into a lake by a fertilizer spreader attached to the back of the boat. Pond Pellets are typically 1/10th to 1/20th of the cost of dredging.

Decorative Ponds: Pond Pellets are a nice way to keep the pond in check and keep muck to a minimum.

Retention Ponds: Retention ponds start out nice and beautiful and after a few years they become loaded with floating organic matter and muck. Pond Pellets are an easy way to help balance them out and reduce muck. These pellets will also work well in retention ponds that may have a lot of road salt. A biologically cleaned pond is a happy pond. A mechanically cleaned pond can often be unhappy for some time as it tries to find biological balance.

Golf Courses: Golf courses can get a lot of muck due to runoff, high nutrient loadings, and leaf and grass waste. Pond Pellets are an easy and affordable way to keep golf course ponds free of muck and more importantly to help keep them biologically balanced.

Shorelines: Used by homeowners to reduce muck around the shoreline. Just sprinkle some pellets around a dock once a month and let them sink into the muck. Month by month the lake bottom will clean up. Many customers have called them little vacuum cleaners as they see the muck reduce.

Fish Farm Aquaculture: Use to degrade fish waste that accumulates in the bottom of a pond. Pond Pellets have proven to be economical and efficient for fish farmers who want to minimize muck accumulation as an alternative to dredging.

Part of the process of creating the Pond Pellets bacterial formula was looking for the strains that grew the fastest and had the best synergy while degrading the dead leaves and weeds, grass, fish and duck waste, and other detritus that makes up pond muck. The graph below depicts a study of the germination rates of different bacteria in pond muck. Data like this is used in the constant process of improving formulations.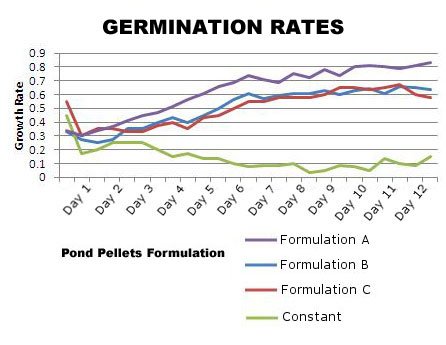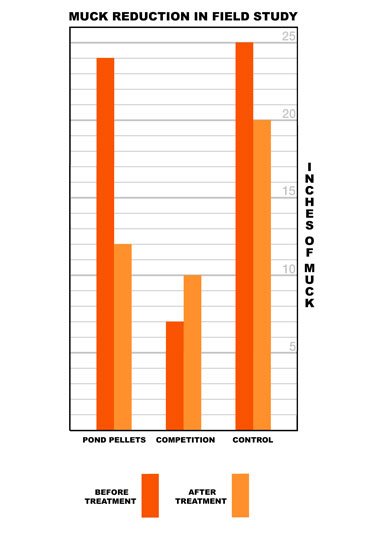 FREQUENTLY ASKED QUESTIONS:

Q: How long do they take?
A: Customers can usually see benefits in a couple of weeks.
Q: How much will the muck go down?
A: It really depends on the muck composition, water temperature and water movement. Typically customers will see 40-80% of the muck gone over the course of a summer.
Q: Does the muck ever increase?
A: Early in treatment as bacterial activity increases muck can get fluffier and less dense, this is temporary. For the best judge of progress measure initially and later in the fall when temperature cools off.
Q: How do they work?
A: Pond Pellets sink into the muck and come alive. Muck is high in organics (food), nitrogen and phosphorous. With these conditions they will grow. If they are applied near a shoreline that gets good wave action this works dissolved oxygen into the muck and they will work faster.
Q: Where do they work best?
A: In organic matter that is humus and has started the degradation process. In laymen's terms if you step in the muck and it's gooey this is a good application. Works on dead leaves, dead weeds, dead grass, fish poop (like in aquaculture), and waterfowl waste.
Q: Where do they not work?
A: They do not work on rock, sand, gravel or sticks. They work slowly on oak leaves, pine needles and other organic matter that is high in lignin (woody).
Q: Will the pellets harm fish?
A: No, if they eat the bullets they will simply pass through them.
Q: Is there a scientific way to see how much muck will degrade?
A: Have a lab run a TVSS (total volatile suspended solids test). This will tell you what % is organic and biodegradable.
Q: Why are these pellets better than other pellets?
A: We make them small so they cover a lot of surface area. The bacteria in Pond Pellets are indigenous in many lakes, they are not just from a test tube. Pond Pellets contain a broad spectrum of organisms, the broader the spectrum the better the results.
**For more information, application dosages, bulk pricing, additional pricing discounts or to set up a Net 30 account, please contact us directly at: