Sludgebugs AP All-Purpose Blend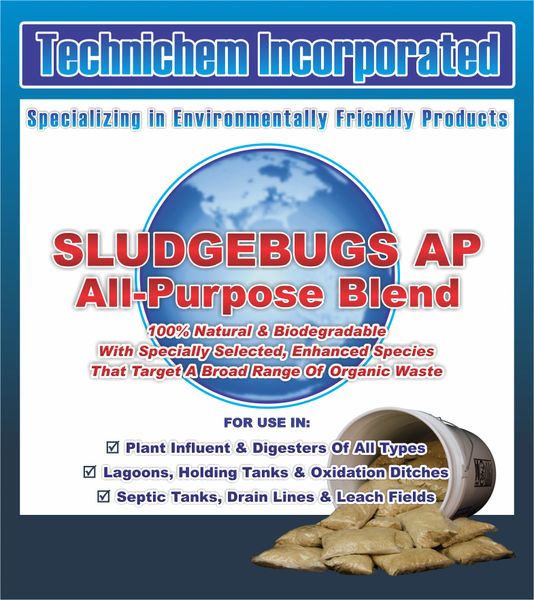 Sludgebugs AP All-Purpose Blend
Sludgebugs AP All-Purpose Blend Sludge Degrader 
Available in 25lb pail (8oz Toss-It Packets)

All-purpose sludge blend of facultative species that is formulated to increase aerobic and anaerobic plant efficiencies, and reduce bio-solids in lagoons, plant head-works, digesters, sludge holding tanks and septic systems in municipal, commercial and industrial applications.
CONTACT US DIRECTLY FOR LARGER VOLUME SYSTEMS AND ADDITIONAL DISCOUNTS 

Proven as an inexpensive alternative to fines, dredging and hauling
Contact us for seasonal, weekly or daily dosage recommendations 
9 strains that target & significantly lower BOD/COD, FOG, hydrocarbons, detergents and paper
May also be used as a long-term preventative safeguard, or to help keep effluent numbers within regulatory guidelines
In most cases, treatment can pay for itself with the interest on money saved on engineering alone, not to mention dredging and hauling! 
Reduce up to 70% of sludge and muck

Lowers ammonia

Clarifies water
Can eliminate dredging & hauling
Lagoon Dosage Rates:

Average Dose: Add 50lb-75lb per surface-acre, depending on depth of sludge or extent of surface debris, or as needed.

Heavy Dose:  Use 75lb-100lb per surface-acre. Contact us for weekly dosage recommendations 
Temperature Range: Works best when water temperature is 60° F (17°C) to 130°F (54°C).
Wastewater Plant Dosage Chart: 
*The wastewater system dosage chart below may be used as a worse case scenario guideline, and as all situations vary, please consider titration as a means to get to the best dosage for your system and expectations.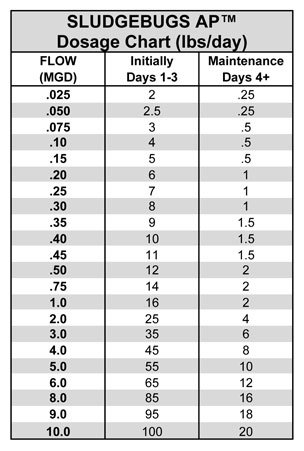 Septic Tank & Leach Field Dosage Rates:

Septic Tank Maintenance Directions: Monthly - Add 1 packet (**once or twice per month) into toilet bowl, and let stand until dissolved, then flush.
Aggressive Septic Tank Treatment: Double the above monthly dosage 
Leach Field Maintenance Directions: Double the above monthly dosage 

Aggressive Leach Field Treatment: Dissolve 5 packets in a 5 gallon pail of warm water. Mix, and let stand for 15-20 minutes. Add directly to the *distribution box or to the outlet leading from the septic tank to the leach field. Follow with plenty of clear water to distribute the solution throughout the field, and repeat three times weekly until desired results are achieved.

*Although it's not the preferred method, if no direct box is available to treat the leach field, add directly to the septic tank. 
**Double or triple the above treatments (depending on size, and loading) for commercial tanks and fields. 
**For more information, application dosages, bulk pricing, additional pricing discounts or to set up a Net 30 account, please contact us directly at:
800-860-TECH info@greasebugs.com