Sludgebugs AR Aerobic Blend
Sludgebugs AR Aerobic Blend
Please Contact Us For Volume Discounts


Sludgebugs AR Aerobic Blend Sludge Degrader
Available in 25lb pail (8oz Toss-It Packets)
Activated sludge blend contains over 5 billion CFU's of 13 different strains and is formulated to increase plant efficiency and reduce bio-solids in aerobic digesters and sludge holding tanks in municipal, commercial and industrial applications.
*The wastewater system dosage chart below may be used as a worse case scenario guideline, and as all situations vary, please consider titration as a means to get to the best dosage for your system and expectations.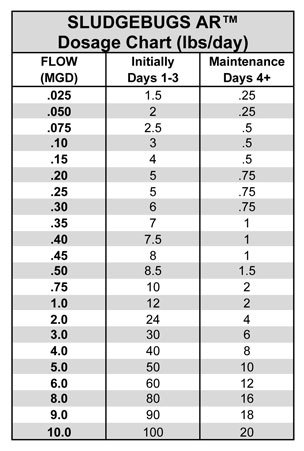 CASE STUDY - SLUDGE HAULING CUT BY OVER 25% 
Test Objective:
To observe if the steady addition of Sludgebugs AR in an aerobic digester would decrease the amount of bio-solids, and to identify any negative effect in the wastewater stratum that could be contributed to Sludgebugs AR.
Plant Information:
Activated sludge plant with a 450K gallon aerobic digester/storage tank. Bio-solids are hauled each spring and fall. 
Dosage Rate:
From July thru November, Sludgebugs AR was applied at a rate of 5 pounds per week for four weeks, followed by by 2.5 pounds per week during the remaining 13 week period. 
Test Results:
Sludge hauled - 324K gallons / 37 dry tons - cost: $8,456
Sludge hauled in the previous year - 435K gallons / 52 dry tons - cost: $11,380
Reduction - 111K gallons (26%) / 15 dry tons (29%) for a savings of $2,924 (29%) 
No adverse effects were reported 
**For more information, application dosages, bulk pricing, additional pricing discounts or to set up a Net 30 account, please contact us directly at:
800-860-TECH info@greasebugs.com